Be an avenue to responsible journalism - RD Bayocot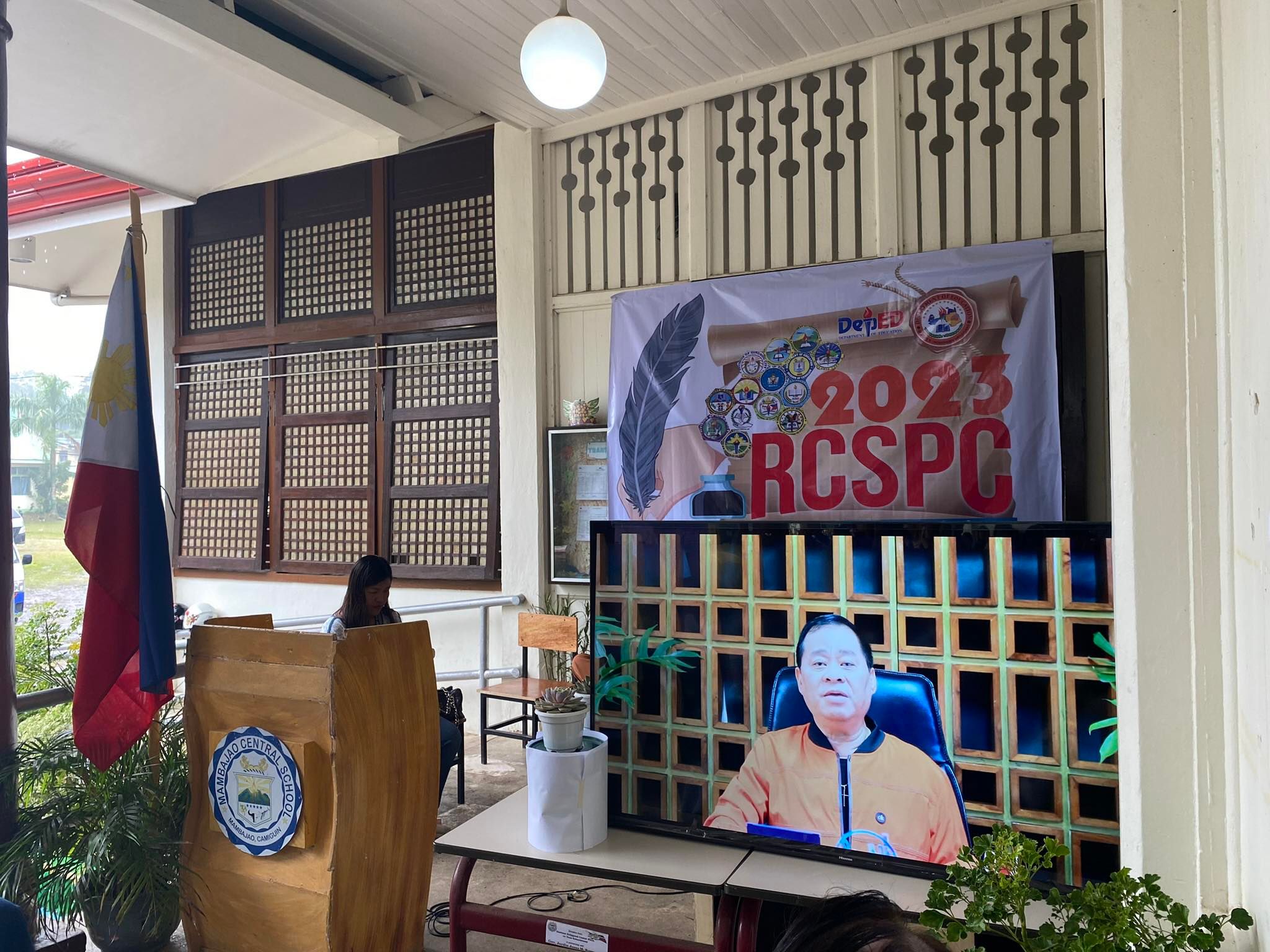 MAMBAJAO, CAMIGUIN, March 4, 2023 – 'Provide with an avenue of journalistic skills and opportunities to recognize the roles of responsible journalism.'
The Department of Education (DepEd) Regional Director of Region X, Arturo B. Bayocot emphasized this statement during the Regional Cluster Schools Press Conference via virtual speech.
'Win or lose what is important is experience, every performance is a learning experience,' he added. Additionally, the event seeks to enhance learning opportunities, promote camaraderie, and give participants skills that will be useful in their future journalism professions.'
Moreover, the conference aims to encourage responsible journalistic practices, raise social consciousness and environmental awareness, and showcase journalism abilities across different platforms. 'RCSPC activity is anchored to the department's agenda and ICD framework that calls for a genuine national commitment for the holistic development of the learners,' Bayocot said.
Furthermore, he stressed out the new agenda in education MATATAG: Bansang Makabata, Bansang Makabansa to set the new direction of the agency and stakeholders in resolving basic education challenges.
This was based on the launching of DepEd's Basic Education Report (BER)new agenda to resolve basic education woes last January 30, 2023 by Vice – President and Secretary of Education Sara Z. Duterte. According to Duterte, 'MATATAG will have four critical components:
• MAke the curriculum relevant to produce competent and job-ready, active, and responsible citizens;
• TAke steps to accelerate delivery of basic education facilities and services;
• TAke good care of learners by promoting learner well-being, inclusive education, and a positive learning environment; and
• Give support to teachers to teach better.'
According to Curriculum Teaching Division Chief, Dr. Bazil T. Sabacajan, the objective of the RCSPC is to demonstrate an understanding of the importance of journalism. He also shared his three SPC's challenges, which means S for self – identity, P – perspicacity and C – credibility.
Meanwhile, Schools Governance and Operations Division (SGOD) Chief Dr. Lailane E. Lopena expressed that hate has four letters so does love, enemies has seven so does friends, lying has five letters so does truth, negative has eight so does positive, anger has five so does happy, and right has five letters so does wrong, hurt has four letters so does heal, it means life is lime double fitted form so that is part of the negative side in an aura to positivity.'
The recent event is graced and supervised by the Regional Technical Working Group (TWG) represented by EPS in Science Nick C. Pañares and the Quality Assurance Division Head Laurencia O. Llagas, held at Mambajao Central School, Poblacion, Mambajao, Camiguin with the host principal Antonio D. Saab.
Additionally, DepEd believes that the 112 campus journalists in the island together with the 35 school paper advisers/coaches will have a deeper understanding of journalism and its crucial role in forming societies, as a result of this conference which will eventually help to foster the growth of a responsible and ethical press. With the theme, "From the Campus Journalism to the Real – World Journalism: Shaping Minds from Schools to Societies." under the guidance of the Education Program Supervisor in English, Luisito A. Acero and Delia D. Acle, EPS in Filipino and the same time the Division Journalism Coordinator.
---
Vissie A. Casero – Bug – ong Elementary School
Vice – President/ Camiguin Association of School Paper Advisers
Elementary Level